---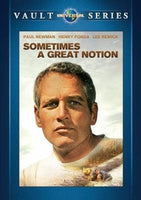 Sale
Sometimes a Great Notion 1971 DVD (Region 1 - Playable in North America - The US, Canada, Mexico, etc.) Widescreen. Beautiful print. New - temporary - reduced price.

Starring: Paul Newman, Henry Fonda, Lee Remick, Michael Sarrazin, Richard Jaekel, Linda Lawson, Cliff Potts, Sam Gilman, Charles Tyner. Written by John Gay from the novel by Ken Kesey. Directed by Paul Newman.

Paul Newman made his second directorial outing in the sweeping saga, Sometimes a Great Notion. Based on the best-selling novel by Ken Kesey, about a two-fisted Oregon lumber family, the story focuses on a family that bucks their close-knit timber community in order to deliver a shipment of logs in defiance of a strike. In the process, one man is killed, the family patriarch Henry (Henry Fonda) is injured, and the eldest son Hank (Paul Newman) almost loses his wife (Lee Remick) to his half brother (Michael Sarrazin).
Filled with complex characters and issues that still resonate today, Sometimes a Great Notion is an intense portrait of life set against the backdrop of logging. Richard Jaeckel was Oscar-nominated for Best Supporting Actor, and is memorable in one of the most quietly harrowing scenes ever put on film.
"They hacked an empire out of wilderness...then fought the world to hold it! "Never give a inch" was the motto of the Stampers of Oregon. And live it they did!"