---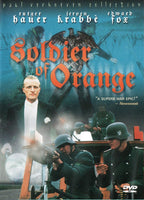 Sale
SOLDIER OF ORANGE (aka Soldaat van Oranje) (1977) DVD Beautiful Widescreen print.(1.66:1) Color 156 min. In Dutch and German with optional English subtitles. English audio commentary by Director Paul Verhoeven. (Region One - Playable in the US, Canada, Mexico, etc.)
Starring: Rutger Hauer, Jeroen Krabbé, Derek de Lint, Susan Penhaligon, Edward Fox Written by Erik Hazelhoff Roelfzema, Kees Holierhoek, Gerard Soeteman and Paul Verhoeven Directed by Paul Verhoeven.

Director Paul Verhoeven's acclaimed WWII epic. Erik (Rutger Hauer), Alex (Derek de Lint), Gus (Jeroen Krabbe) and their friends are all students at a Dutch university in the late 1930s. When the Nazi occupation begins, the members of the group all respond in different ways, with some joining the ranks of the German army, others fighting for the resistance, some escaping to England and still others falling victim to collaboration or Nazi torture. The film, based on the autobiographical novel by Erik Hazelhoff Roelfzema, follows the diverging adventures of the friends throughout the war, from the beginning of the occupation all the way through to the liberation. Based on real events, Soldier of Orange tells the story of Dutchman Erik Lanshof (a star-making performance by Rutger Hauer) and a small group of students as they struggle to survive the Nazi occupation to the end of the Second World War. The destinies of the characters range from joining the German army to making for England, the OSS and the Resistance. Across a canvas lasting almost three hours director Paul Verhoeven unfolds a saga of friendship, espionage and romance with almost documentary realism--though not as graphically violent as his later American films the torture scenes are intense--crafting a deeply affecting film widely regarded as the greatest ever made in Holland.
"This is one of the best films ever made about World War II" - Bill Warren at Audio Video Revolution
"Have any interest at all in seeing a Second World War movie told solely from the eyes of the Dutch? Not really? Well then you'll be robbing yourself of an excellent war film." - Scott Weinberg at Apollo Movie Guide
"They began and ended with a toast. In between was one hell of a war"