---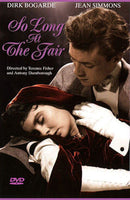 Sale
So Long at The Fair 1959 DVD (Region 1 - Playable in North America - The US, Canada, Mexico, etc.)  Black & White. Digitally re-mastered and newly lowered price!

Starring: Jean Simmons, Dirk Bogarde, Honor Blackman, David Tomlinson, Felix Aylmer, Kathleen Nesbitt, Andre Morell, Austin Trevor. Written by Anthony Thorne and Hugh Mills. Directed by Terence Fisher and Antony Darnborough.
The 1889 Paris Exposition serves as the backdrop for this eerie mystery, in which English tourist Vicky Barton (Jean Simmons) and her brother Johnny (David Tomlinson) arrive in Paris to attend the Great Fair. They enjoy a night on the town before returning to separate rooms at their hotel. The following morning Vicky discovers her brother is missing. Not only is there no record of his registration at the front desk but his room doesn't exist either. No one on the hotel staff recalls ever seeing him and in desperation Vicky goes to both the British consul and the local police chief but neither one believes her story. Determined to unravel the mystery of her brother's disappearance, Vicky enlists the help of a sympathetic stranger, British artist George Hathaway (Dirk Bogarde), and their sleuthing efforts uncover the truth.
"Paris ! ... city of love and intrigue ... scene of the most fascinating mystery ever filmed !"