---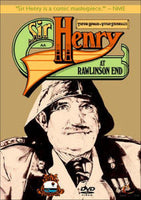 Sale
Sir Henry at Rawlinson End 1980 DVD (Region 1 - Playable in North America - The US, Canada, Mexico, etc.) Color. Beautiful print with a newly, reduced - yet temporary - price!

Starring: Trevor Howard, Patrick Magee, Denise Coffey, J.G. Devlin, Harry Fowler, Sheila Reid, Vivian Stanshall. Written by Steve Roberts and Vivian Stanshall. Directed by Steve Roberts.

It's another morning in Rawlinson End, the stately pile in which the beyond-eccentric Sir Henry (Trevor Howard) resides with his wife Flossie (Sheila Reid) and their staff, but as usual he is having trouble getting out of bed. Nothing that shooting the ceiling with a shotgun won't help, and it also attracts the attention of the housekeeper Mrs E (Denise Coffey) who asks him what he wants for breakfast. What Sir Henry really enjoys more than anything is a stiff drink, but he decides to make an excursion into the surrounding countryside, dressed as a gentleman of foreign extraction on a unicycle - an act which attracts the attention of a ghost and two shady characters - the unscrupulous Buller Bullethead (Harry Fowler) and the local reverend (Patrick Magee)...
Vivian Stanshall's classic wacky wonderworld springs to life like a deranged cuckoo clock!
Review: "I absolutely love this film. I have watched it so often I could dictate the screenplay from memory, but still new subtleties become apparent, even twenty years after I first saw it. Imagine a festering synthesis of Evelyn Waugh and Bunuel via Monty python, then make it ten times better than you might imagine."