---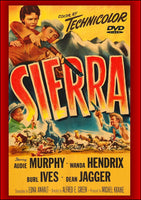 Sale
Sierra 1950 DVD (Region 1 - Playable in North America - The US, Canada, Mexico, etc.)  Color 83 minutes. Digitally re-mastered. New price!

Starring: Audie Murphy, Wanda Hendrix, Dean Jagger, Burl Ives, Sara Allgood, James Arness, Anthony (Tony) Curtis. Directed by Alfred E. Green. 
Jeff Hassard (Dean Jagger) and his son Ring (Audie Murphy) lead an isolated existence in the mountains breaking horses, because Jeff is wanted for a murder he did not commit. Their lives are interrupted when they stumble upon a young woman, Riley (Wanda Hendrix). Jeff is injured, Ring runs afoul of horse thieves and the law, and Riley (who turns out to be a lawyer) labors to clear the Hassards; but others would prefer them dead.