---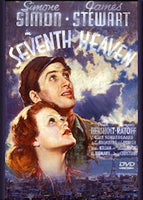 Sale
Seventh Heaven 1937 DVD (Region 1 - Playable in North America - The US, Canada, Mexico, etc.) Black & White.
Starring: James Stewart, Simone Simon, Gale Sondergaard, Jean Hersholt. Written by Melville Baker from the play by Austin Strong. Directed by Henry King.

This romantic tearjerker was the second film based on the popular 1922 stage play. James Stewart stars as Chico, a lowly Paris sewer worker who has abandoned his faith in God and any hope for a brighter future or romance when his prayers go unanswered. Chico meets Diane (Simone Simon), a prostitute who lives under the thumb of her cruel sister, Nana (Gale Sondergaard). When Nana kicks Diane out on the street, Chico rescues her from the authorities and gives his new friend shelter in his run-down, seventh floor slum apartment. Although Diane begins to develop feelings for him, the cynical Chico feels nothing in return until Father Chevillon (Jean Hersholt), a local priest, intervenes to get him a better job. Now working as a street cleaner, Chico's self-respect improves, and he considers marrying Diane. WWI intervenes, however, and Chico is sent off to fight, though he and Diane vow to think of each other every night at eleven o'clock. Soon the winds of fate threaten to separate them forever as Diane is told bad news from the battlefront.

A remake of the 1927 classic silent version of SEVENTH HEAVEN starring Janet Gaynor, also available at Movie-O-Zone.