---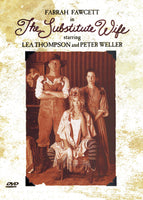 The Substitute Wife (DVD) 1994 Playable in North America (US, Canada, etc.) Color Approx. 92 min. Presented here in its original 1.33 : 1 ratio.
Starring: Farrah Fawcett, Peter Weller, Lea Thompson Written by Stan Daniels. Directed by Peter Werner.
A dying wife and mother makes plans for her family in this made-for-television drama. Lea Thompson stars as Amy Hightower, a frontier wife and mother of four who is ill and expected to die. In an unusual move to make sure her family is cared for, she finds a prostitute named Pearl (Farrah Fawcett) and teaches her how to be a wife and mother. The movie shows how Pearl slowly transforms, Amy's health fluctuates, and how husband Martin (Peter Weller) deals with the unusual circumstances.
Filmed in Texas, this film is at times humorous and emotional.