---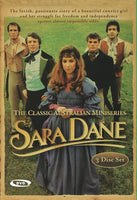 Sale
Sara Dane 1982 DVD (Region 1 - Playable in North America - The US, Canada, Mexico, etc.) Complete Australian Mini-Series 1982, Approx. running time: 435 minutes,  3-Disc set Color New, lower price!

Starring: Juliet Jordan, Harold Hopkins, Sean Scully, Brenton Whittle, Barry Quin, Ilona Rodgers, Robert Grubb. Written by Alan Seymour (screenplay), Catherine Gaskin (novel). Directed by Gary Conway, Rod Hardy.

From the producers of BREAKER MORANT comes SARA DANE, a lavish Australian mini-series.
Based on the best-selling novel by Catherine Gaskin, SARA DANE tells the epic story of a poor, impish convict girl determined to escape a life of deprivation and join the ranks of the colonial gentry.
From the hold of a prison ship bound for Sydney, Sara (Juliet Jordan) is released to become a maid where she sets out to rise up out of her harsh convict roots. Stripped of her rags, the now luminous Sara is coveted by the ship's officer (Harold Hopkins) who she marries to the chagrin of the colony's social circles. They, however, underrate Sara's fierce independent spirit and driving ambition.
Screening to a huge television audience in 1982, SARA DANE set the standard for Australian drama and continues to be hailed as a television masterpiece.