---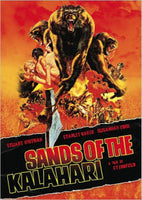 Sale
Sands of the Kalahari 1965 DVD. (Region 1 - Playable in North America - The US, Canada, Mexico, etc.) 1965. Color. Widescreen. Beautiful print! New lower price!

Starring: Stuart Whitman, Stanley Baker, Susannah York, Theodore Bikel, Nigel Davenport, Harry Andrews. Written by Cy Endfield and William Mulvihill Directed by Cy Endfield.

One of greatest, most unique action-adventure films of all time, on DVD at last. A small airplane crashes in the sweltering deserts of southern Africa hundreds of miles from civilization. As parallels are drawn between the stranded group of seven passengers and a nearby pack of savage baboons, one of the men's survivalist nature gets the better of him, as he decides his chances of survival would be better if the other men were eliminated one-by-one.
"Six survivors struggle for their lives against the killer apes of Kalahari!"