---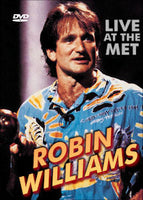 Sale
Robin Williams - Live at the Met (A Night at the Met - An Evening at the Met - On Location: Robin Williams - An Evening at the Met) 1986 DVD (Region 1 - Playable in North America - The US, Canada, Mexico, etc.) Color. Newly re-mastered.
Starring: Robin Williams. Written by Robin Williams. Directed by Bruce Gowers.
 Insanity reigns in this classic standup mix of Robin Williams' rapid-fire humor and voice work, with riffs on the topics of drugs, sex, world affairs and children. References to the events and people of the 1980s are strewn heavily throughout; U.S. President Ronald Reagan, Libyan leader Muammar al-Gaddafi, and President of the Soviet Union Mikhail Gorbachev are central to many of the jokes.
Not to be missed! Newly reduced price (limited time at this price).