---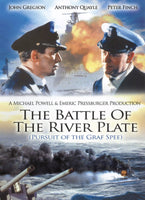 The Battle of the River Plate (Pursuit of the Graf Spee) DVD 1956 Color Approx. 114 min. Shown in its original 1.85:1 aspect ratio Playable in North America (the US, Canada, Mexico, etc.) With optional English subtitles. Beautiful print!

Starring: John Gregson, Anthony Quayle, Peter Finch, Ian Hunter, Jack Gwillim, Bernard Lee, Lionel Murton, Anthony Bushel,l Peter Illing, Michael Goodliffe, Patrick Macnee, John Chandos, Douglas Wilmer, William Squire, Roger Delgado, Andrew Cruickshank, Christopher Lee, Jeremy Kemp, Donald Moffat, Anthony Newley, Nigel Stock, Barry Foster, and Ambrosine Phillpotts. Narrated by David Farrar Written, produced and directed by Michael Powell and Emeric Pressburger
In the fall of 1939, the German heavy cruiser (referred to as a pocket battleship) Graf Spee has command of the Atlantic. In the first three months of World War II, she is responsible for sinking nine ships. The British send three cruisers commanded by Commodore Henry Harwood to confront her. The battle on December 13, 1939 is a decisive victory for the British. The Graf Spee – damaged -  heads for the neutral harbor of Montevideo, Uruguay. The Germans are given only a short time to effect repairs and the British do their best to make them believe a large British fleet awaits them. Rather than chance the loss of his men, the German Captain orders the Graf Spee scuttled.
"The true and moving story of a mighty sea battle! Suspense Clutches Your Heart in This Spectacular Saga of the Sea!"