---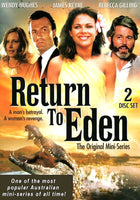 Sale
Return To Eden 1983 Australian Mini-Series (Region One - playable in the US, Canada, Mexico and US territories) DVD 2 Disc Set. Digitally remastered. Best you'll find! Newly reduced price!

Starring: Rebecca Gilling, James Reyne, Wendy Hughes and James Smillie. Written by Michael Laurence. Directed by Karen Arthur.

Wealthy, but plain heiress Stephanie Harper (Rebecca Gilling) marries handsome tennis player Greg Marsden (James Reyne), and thinks she has found true love. That is, until her husband makes a play for her best friend (Wendy Hughes) and plots to get rid of Stephanie so he can take her money. Greg pushes her off a boat and into the waiting jaws of a crocodile. Miraculously, unknown to Greg, Stephanie survives the attack, but is horribly disfigured. She spends months undergoing painful surgeries to have her face repaired by a brilliant plastic surgeon. The now beautiful Stephanie no longer looks like the plain and dowdy woman she once was. She returns to the city under the name Tara Welles to become a famous super model and seek vengeance on her husband, who has told everyone that poor Stephanie was taken by a crocodile, as he waits to inherit all of her lovely money. But will she have the best revenge?
 "One of the most popular Australian mini-series of all time! A must see!"
(Region One - playable in the US, Canada and US territories)