---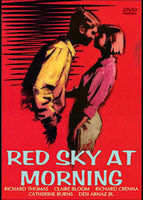 Sale
Red Sky at Morning 1971 DVD (Region 1 - Playable in North America - The US, Canada, Mexico, etc.) Full Frame. Color. New, lower price.

Starring: Richard Thomas, Claire Bloom, Richard Crenna, Catherine Burns, Desi Arnaz Jr., John Calicos, Harry Guardino, Strother Martin, Nehemiah Persoff, Pepe Serna, Gregory Sierra. Written by Richard Bradford (novel) and Marguerite Roberts. Directed by James Goldstone.
Red sky at morning, sailor take warning. Red sky at night, sailor's delight...

Before going off to World War II, Frank Arnold (Richard Crenna) relocates his wife, Ann (Claire Bloom), and son, Josh (Richard Thomas), to faraway Corazon Sagrado, New Mexico. Josh has a difficult time fitting in, finding himself a minority in a predominantly Latino community, and his mother doesn't fare much better, treating her loneliness with increasing quantities of alcohol while entertaining a perennial family house guest. At length, Josh makes friends, finds young love, and begins to adjust to this strange and colorful culture. But bad news from the outside world threatens to capsize everything Josh has come to know.
A beloved film based upon the beloved novel by Richard Bradford.

Region One. North American Format. Full Frame.
"A man's desperation...a woman's passion...a boy's awakening...a girl's desire..."