---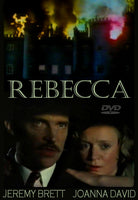 Sale
Rebecca 1979 DVD Mini-series (Region 1 - Playable in North America - The US, Canada, Mexico, etc.) 2-Disc set Color.
Starring: Jeremy Brett, Joanna David, Anna Massey, Hugh Morton, Vivian Pickles. Written by Hugh Whitemore, based on the novel by Daphne Du Maurier. Directed by Simon Langton.

An introverted and unsophisticated nineteen-year-old is employed as a traveling companion to an elderly American woman. While stopping in Monte Carlo, they meet wealthy English widower Max de Winter, who is attracted to the honest, uncomplicated young lady. After a whirlwind courtship, Max proposes marriage and she returns with him to his brooding estate, Manderley, on the Cornish coast. Here the young bride realizes she will be living in the long shadow of Max's first wife, a great beauty who died under tragic and mysterious circumstances. But was it an accident?
Author Daphne Du Maurier's chilling tale is reborn in what many consider the definitive dramatic adaptation of her masterpiece!