---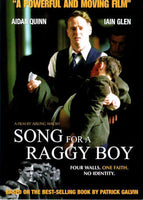 Sale
Song for a Raggy Boy DVD (Region 1 - Playable in North America - The US, Canada, Mexico, etc.) Color. Beautiful print!  Color. New, lower price!

Starring: Aidan Quinn, Iain Glen, Marc Warren, Dudley Sutton, Stuart Graham, John Travers, Chris Newman, Andrew Simpson. Written by Aisling Walsh, Kevin Byron Murphy and Patrick Galvin. Directed by Aisling Walsh.
William Franklin (Aidan Quinn) is a teacher who was born in Ireland and moved to the United States only to repatriate in 1939 after his leftist political views cause him to lose his job. Franklin becomes the first non-cleric instructor at St. Jude's, a school for wayward boys run by Brother John (Iain Glen), who is a firm believer in strong discipline. Franklin comes to believe the students are being treated with excessive force, with many of the children severely punished for trivial violations of the rules, and some treated as delinquents for the crime of not having parents. As Franklin campaigns for more humane treatment of his charges, he makes a powerful enemy in Brother John, who responds to Franklin's reform efforts with greater vehemence against the students.
Song for a Raggy Boy is an extremely well-made and very moving movie, based on a true story. From the novel by Patrick Galvin, who also helped adapt his story for the screen. Directed by Aisling Walsh
"Four walls. One faith. No identity."