---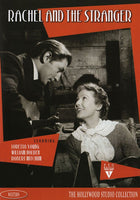 Sale
Rachel and the Stranger 1948 DVD (Region 1 - Playable in North America - The US, Canada, Mexico, etc.) B&W Beautifully re-mastered. Temporary price reduction!

Starring: Loretta Young, William Holden, Robert Mitchum, Gary Gray, Tom Tully, Frank Ferguson, Walter Baldwin. Written by Waldo Salt, based on the story "Rachel" by Howard Fast. Directed by Norman Foster.

David Harvey (William Holden) is a widower with a young son who decides that he needs a woman around the house, he takes a bonded servant Rachel (played luminously by Loretta Young) as his wife. David shows no real affection towards Rachel, he treats her well, but far more as a servant than a wife. This all changes when his smooth-talking friend Jim Fairways (Robert Mitchum) arrives and shows an obvious interest in Rachel, David starts to realize that she means far more to him than he thought.
"The Man Who Bought Her...The Tall Dark Stranger Who Sought Her!"