---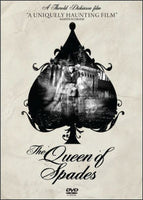 Sale
The Queen of Spades DVD (1949) Region 1 (Playable in North America - The US, Canada, Mexico, etc.). Black & White. New, lower price!

Starring: Anton Walbrook, Edith Evans, Yvonne Mitchell, Ronald Howard, Miles Malleson, Mary Jerrold, Anthony Dawson, Michael Medwin, Violetta Elvin. Written by Rodney Ackland, Arthur Boys, based on the short story "The Queen of Spades" by Alexander Pushkin. Directed by Thorold Dickinson.
Based upon a short ghost story by celebrated Russian author Alexander Pushkin, The Queen Of Spades is legendary filmmaker Thorold Dickinson's most accomplished piece of work. Hailed by Martin Scorsese as an absolute masterpiece, The Queen Of Spades, stands up as a groundbreaking and unique example of the golden age of British filmmaking. Surreal, emotionally intense and genuinely creepy,
The Queen Of Spades is an unforgettable experience that feasts the eyes with strange symbolism and haunts the mind with unease. Starring Anton Walbrook (The Red Shoes) and Dame Edith Evans (Scrooge, Tom Jones) it remains an atmospheric and macabre classic like no other. An army officer has become obsessed with playing cards. Convinced that an elderly countess possesses the secret of winning every game, the young officer's obsession leads him into a satanic world of madness, mayhem and murder where death is only the beginning.
Review (may contain a spoiler): "Adapted from a short story by Pushkin, this brilliant film is far too rarely seen or mentioned, which is tragic, because it is without question one of the best British films ever made. The casting is perfect, and it's easy to see why Anton Walbrook was one of Michael Powell's favourite actors. His portrayal of the odious Suvorin is a tour de force, and he is matched by the great Edith Evans as the Countess. The crucial scene in which Suvorin tries unsuccessfully to beg, cajole, and finally force the secret of the cards from the Countess is truly electrifying -- Walbrook is absolutely rivetting, and Evans -- who has no lines and plays the scene only with her eyes -- shows why she was considered one the greatest actors of her generation. The climax of that scene, the look of stark horror on Walbrook's face, is one of the most powerful film moments I've ever seen, perhaps only surpassed by incredible card-game scene at the end of the film."