---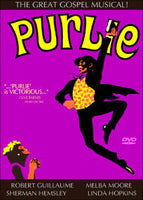 Sale
Purlie 1981 TV DVD (Region One - Playable in North America - The US, Canada, Mexico, etc.) Color.
Starring: Robert Guillaume, Melba Moore, Sherman Hemsley, Rhetta Hughes, Linda Hopkins, Calrice Taylor, Don Scardino, Suzzane Douglas. Written by Ossie Davis, Peter Udell and Philip Rose - the play "Purlie Victorious". Directed by Rudi Goldman.

Look out world, Purlie is coming back home! Set in Georgia during the era of Jim Crow laws and deep rooted prejudice, none of that is going to set back Preacher Purlie and his new-found protege, young Lutiebelle. Purlie wants his people's rights and his own church in which to preach freely, and he sets out to get it all. Through the course of his antics, love blooms and faith swoons. Meanwhile, white plantation owner, Ol' Cap'n Cotchipee doesn''t quite get The Word, and he's holding tight to his bullwhip along with his power and control over his servants. But the Cap'n's son Charlie would rather live in an ideal world of peace and brotherhood. Innocent, but ineffective at first, Charlie jumps on Purlie's hallelujah bandwagon and soon--with a little help from Divine Providence--they parade laughing, clapping, and singing into the light.
A glorious goodtime musical for all good people everywhere!
(*Adapted from the play "Purlie Victorious" by Ossie Davis, Peter Udell and Philip Rose.)