---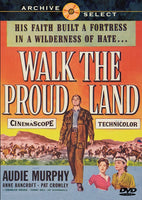 Walk the Proud Land (1956) Region One (Playable in North America – The US, Canada, Mexico, etc.) Color Widescreen Beautiful, newly restored widescreen print! Part of the Audie Murphy Collection!

Starring: Audie Murphy, Anne Bancroft, Pat Crowley, Charles Drake, Jay Silverheels, Anthony Caruso. Written by Gil Doud, Jack Sher and Woodworth Clum. Directed by Jesse Hibbs
Real-life war hero Audie Murphy stars in the riveting Western Walk the Proud Land about one of the most interesting stories of the American frontier. Appointed as an Indian agent in 1874 by the Department of the Interior at the age of twenty-three John Clum (Murphy) is sent to an Apache reservation in San Carlos, Arizona to take over the army's position. After trying to empower and teach self-governing principles to the Apaches, he is faced with opposition not only from some of the Indians but also from the leader in charge of the Army troops. Co-starring Anne Bancroft as a beautiful widow who becomes Clum's housekeeper and Pat Crowley as Clum's wary new bride, Walk the Proud Land is an exciting drama about an important time in American history.
"The true story of Indian Agent John Philip Clum! HE TAMED APACHE WAR-LUST WITH THE POWER OF HIS FAITH...and conquered a savage warrior in a showdown of raw courage! Out of the pages of the West's most thrilling history comes the saga of Indian Agent John Philip Clum ...whose Faith built a fortress in a wilderness of hate...and tamed the fury of Geronimo's last desperate stand!"
Part of the Audie Murphy Collection!