---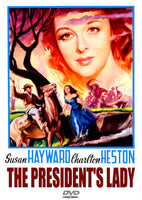 Sale
The President's Lady 1953 DVD (Region 1 - Playable in North America - The US, Canada, Mexico, etc.) Black & White.
Starring: Susan Hayward, Charlton Heston, John McIntire, Carl Betz, Fay Bainter, Whitfield Connor, Ruth Attaway, Charles Dingle, James Best. Written by Irving Stone and John Patrick. Directed by Henry levin.

Future president Andrew Jackson (Charlton Heston) rises to fame as a military hero and rescues love of his life Rachel Donelson (Susan Hayward) from an abusive marriage. A man from Tennessee -- which was at the time the edge of the American frontier -- Jackson endures as his critics and opponents characterize him as a rogue from the lawless West. But when his rival, Charles Dickinson (Carl Betz), insults Rachel, Jackson challenges him to a duel that results in a national controversy.
"Irving Stone's best-seller! Outside the crowds thundered: "AN ADULTRESS IN THE WHITE HOUSE - NEVER!"