---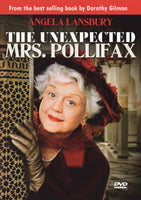 The Unexpected Mrs. Pollifax (1999) DVD (Playable in the US, Canada, Mexico, etc.) Color, Shown in original TV aspect ratio 1.33.1 Run time approx. 90 min. Beautifully restored print. Gorgeous picture and sound.
Starring: Angela Lansbury, Thomas Ian Griffith, Ed Bishop, Joseph Long, Paul Birchard, Peter Bland, Jacqueline Pearce, Michelle Read, John Light, Tommy O'Neill, Paul Kennedy, Daisy Donovan. Written by Dorothy Gilman (novel) and Robert T. Megginson (teleplay). Directed by Anthony Shaw.
When her doctor recommends that a widow pursue her unfulfilled life ambitions, he doesn't realize that she has always wanted to be a spy. Sending a letter to her Representative gets her an interview with the C.I.A. and accidentally gets her an assignment to Morocco for a supposedly easy task of picking up an encrypted code book. When the agency realizes their mistake, they send a super-agent to watch over her. Both are taken prisoner and the real agent is injured, leaving Mrs. Emily Pollifax (Dame Angela Lansbury) to use her considerable wits to help them escape and to save the day.