---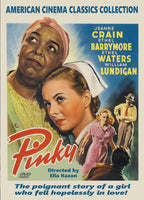 Pinky (1949) B&W DVD Approx. 101 min. Shown in original aspect ratio 1.33:1 Optional English subtitles / close captions. Beautifully remastered. Region One - Playable in the US, Canada, Mexico, etc.
Starring: Jeanne Crain, Ethel Barrymore, Ethel Waters, William Lundigan Written by Philip Dunne and Dudley Nichols, based on "Quality" by Cid Ricketts Sumner Produced by Darryl F. Zanuck Directed by Elia Kazan
Pinky Johnson (Jeanne Crain) returns to the South to visit Dicey (Ethel Waters), the illiterate black laundress grandmother who raised her. Pinky confesses to Dicey that she passed for white while studying to be a nurse in the North. She had also fallen in love with a white man, Dr. Thomas Adams (William Lundigan), who knows nothing about her black heritage.
Dicey asks Pinky to stay temporarily to care for her ailing, elderly white friend and neighbor Miss Em (Ethel Barrymore). Pinky has always disliked Miss Em and considers her another of the many bigots in the area. Pinky relents and agrees to tend Miss Em after learning that when Dicey had pneumonia, Miss Em cared for her. Pinky nurses the strong-willed Miss Em, but does not hide her resentment. However, as they spend time together, she grows to like and respect her patient.
John Ford was originally hired to direct the film but was replaced after one week because producer Darryl F. Zanuck was unhappy with the dailies.
Jeanne Crain was nominated for a Best Actress Academy Award. Both Ethel Barrymore and Ethel Waters were nominated for Best Supporting Actress.
Pinky enjoyed wide success in the southern United States, but was banned by the city of Marshall, Texas for its subject matter. Marshall's city commission "reactivated" the Board of Censors, established by a 1921 ordinance, and designated five new members who demanded the submission of the picture for approval. They disapproved its showing, stating that it was "prejudicial to the best interests of the citizens of the City of Marshall."