---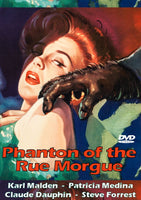 Phantom of the Rue Morgue 1954 DVD (Region 1 - Playable in North America - The US, Canada, Mexico, etc.) Color. Beautiful Warner-Color print. Digitally remastered. Close captioned.
Starring: Karl Malden, Claude Dauphin, Patricia Medina, and Steve Forrest. Screenplay by James Webb and Harold Medford. Based on "The Murders in the Rue Morgue" by Edgar Allan Poe. Directed by Roy Del Ruth.
After several women are murdered, the police are baffled trying to determine who the suspect is. All evidence points to Prof. Dupin (Steve Forrest), but soon it becomes apparent that the killer is someone or something that is stronger and more deadly than any man.
 "Mad passions, madder deeds in the Edgar Allan Poe chiller!"