---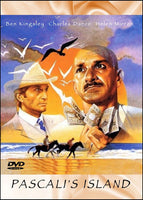 Sale
Pascali's Island 1988 DVD (Region 1 - Playable in North America - The US, Canada, Mexico, etc.) Widescreen Color Beautifully remastered. New (temporary) lower price!

Starring: Ben Kingsley, Charles Dance and Helen Mirren. Written and directed by James Dearden.
In 1908 at Nisi, a small Greek Island under Ottoman rule, Turkish officials, Greek rebels, German emissaries and other foreign mercenaries mingle as they all try to keep the upper hand in that remote part of the crumbling Ottoman Empire. Basil Pascali (Ben Kingsley), a half-British half-Cypriot man, considers himself a local feature on the island. Since his arrival twenty years before, he spies for the Sultan sending detailed reports about suspicious activities. Nobody reads or even acknowledges his observations, his payment has never been increased but still arrives regularly, so he continues his work as an informant with unfailing eagerness. His suspicions are roused when a British archeologist (Charles Dance) appears, who may not be quite what he seems.
"It is a mood piece, meditative, in which even the melodrama of the plot grows out of the flawed souls of the characters. Everything in a film like this depends on performance, and it is hard to imagine how it could have been better cast." – Roger Ebert
Review: "Wonderfully made, deeply involving.The performances of the main cast and the layered depths of their characterizations are magnificent. While the photography, music and art direction are all impeccable, convincing and skilled, they all support the story."