---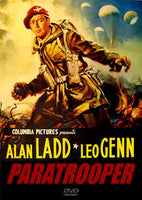 Sale
Paratrooper (The Red Beret) 1953 DVD (Region 1 - Playable in North America - The US, Canada, Mexico, etc.) Color.
Starring: Alan Ladd, Leo Genn, Susan Stephen, Harry Andrews, Stanley Baker, Anton Diffring. Written by Richard Maibaum, Frank S Nugent and Sy Batlett. Directed by Terence Young.

Alan Ladd shines in this thrilling military commando story based on the wartime raid on the German radar station at Bruneval. The raid was a combined services operation and the 2nd Battalion of the 1st Parachute Brigade was led by Major 'John Frost' (Major Snow). An RAF radar expert, Flight Sergeant C.W.H. Cox (Sergeant Box) accompanied the raiders to tell them what to take back to England.
"The skies go black with thousands of fighting men hurtling into battle! ALAN LADD At His Greatest - ripping your emotions with thrills!"