---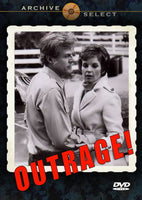 Outrage! (1973) DVD Region One (Playable in North America – The US, Canada, Mexico, etc.) Color Approx. 70 min. New temporary price!

Starring: Robert Culp, Marlyn Mason, Beah Richards, Jacqueline Scott, Ramon Bieri, Mark Lenard. Written by William Wood Directed by Richard T. Heffron
Jim Kiler (Robert Culp), a suburbanite, finds himself and his family at the mercy of a group of young men from neighboring families who have singled out the Kilers after running roughshod over the greater community. While Kiler attempts at first to reason with the youths, their response is to step up the attacks on the family, which grow more emboldened and dangerous as the film continues. Kiler and his wife (Marlyn Mason) eventually feel that in addition to their personal safety. This action finally prompts the rational, logical Kiler to abandon his peaceful approach and take matters into his out hands as his outrage reaches the breaking point. Based on a true story of California suburbia – youths out of control and the man who just wants to live the American Dream: a peaceful life with his family in a picture perfect community.
* Very, very few prints of OUTRAGE! exist. After an extensive search we found what we believe to be the best surviving elements of this important, timely made-for-television movie. We are pleased to make this available here on DVD, however the quality is not what you would expect of a state-of-the-art re-mastered print. On a scale of 1 to 10 it would be about a seven. But it is wonderful for those who truly wish to see this almost lost true story of California suburbia and the twists and turns of the American Dream!