---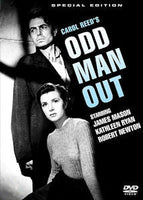 Odd Man Out - Special Edition 1947 DVD B&W. (Region 1 - Playable in North America - The US, Canada, Mexico, etc.)

Starring: James Mason, Dan O'Herlihy, Dennis O'Dea, Robert Newton, W.G. Fay, Kathleen Ryan. Directed by Carol Reed.
Odd Man Out is a British classic from 1947 that fits the film noir definition in almost every respect. It's one of the milestones of its era, highlighted by what is arguably the best performance in the illustrious career of James Mason, here playing the leader of an underground Irish rebel organisation, who is seriously wounded when a payroll heist goes sour. Left for dead by his accomplices on the streets of Belfast he's forced to hide wherever he can find shelter and as his gunshot wound gradually drains his life away, his lover (Kathleen Ryan) struggles to locate him before it's too late.
Although the IRA and Belfast are never mentioned by name, this film was a daring and morally complex examination of Northern Ireland's "troubles" and the compelling tragedy hasn't lost any of its impact. A study of conscience in crisis and the bitter aftermath of terrorism, this was one of the first films to address IRA activities on intimately human terms. Political potency is there for those who seek it, but the film is equally invigorating as a riveting story of a tragic figure on the run from the law, forced to confront the wrath of his own beliefs in the last hours of his life.
It was this brilliant, unforgettable film that established the directorial prowess of Carol Reed, whose next two films (The Fallen Idol and The Third Man) were equally extraordinary.