---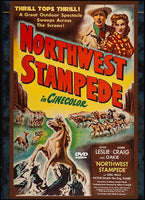 Northwest Stampede 1948 DVD Color  (Region 1 - Playable in North America - The US, Canada, Mexico, etc.)
Starring: James Craig, Joan Leslie, Chill Wills, Jack Oakey, Victor Killian and "Flame" the dog. Directed by Albert S. Rogell

When famous rodeo rider Dan Bennett (James Craig) receives a letter informing him of his father's death, he returns to his late father's ranch, where he meets the new forewoman, Chris (Joan Leslie). Suspicious of the mysterious woman, Dan decides to hide his identity and asks for a job as a ranch hand. While working at the ranch, Dan becomes obsessed with a beautiful, wild stallion known as Blizzard. While he's busy trying to rope Blizzard, Chris learns the truth about her new employee.
"THRILL to the most daring death duel ever filmed---the "White Outlaw" battling a snarling, fear-crazed wolfpack!"

"THRILL to the wild, roaring spectacle of the Northwest's greatest action-packed rodeo---the Calgary Stampede!"

*Very few prints of NORTHWEST STAMPEDE exist. After an extensive search we found what we believe to be the best surviving elements. We are pleased to make this available here on DVD. One should not expect state-of-the-art re-mastered quality - but it is a treasure for those who truly wish to see this wonderful western film, shot on location in the wilds of Canada.