---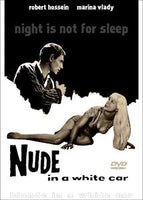 Nude In A White Car (aka Toi Le Venin, Night Is Not For Sleep, Blonde In A White Car) 1958 DVD (Region 1 - Playable in North America - The US, Canada, Mexico, etc.) Black & White. Widescreen. French language, English subtitles.
Starring: Robert Hossein, Marina Vlady, Odile Versois. Directed by Robert Hossein.
Picked up by a beautiful motorist, jobless hitchhiker Pierre (Hossein) is seduced by a mysterious blonde woman who then dumps him and tries to run him down with her convertible. Memorizing her license number, Pierre traces her to a house where he is met by two young vixens (Marina Vlady and Odelle Versois). Either one might be the woman he's looking for or intend to do him further harm. Director Hossein's psychological masterpiece, based on the novel C'est Toi Le Venin by Frédéric Dard. With an evocative jazz music score by André Hossein.
A rare film noir gem. Don't miss this one!