---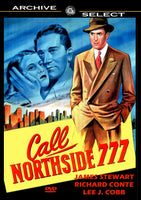 Sale
Call Northside 777 (1948) DVD Black and white Approx. 111 Min. Shown in its original 1.33:1 aspect ratio Optional English subtitles (Region 1 - Playable in North America - The US, Canada, Mexico, etc.)
Starring: James Stewart, Richard Conte, Lee J. Cobb, Helen Walker, Betty Garde, Kasia Orzazewski, Howard Smith, Moroni OIsen, John McIntire.  Written by Jerome Cady, Jay Dratler, Leonard Hoffman, and Quentin Reynolds, based on 1944 "Chicago Daily Times" articles by James P. McGuire and Jack McPhaul. Directed by Henry Hathaway.
In Chicago in 1932, during Prohibition, a policeman is murdered inside a speakeasy. Frank Wiecek (Richard Conte) and another man are quickly arrested, and in November 1933 are convicted and sentenced to serve 99 years imprisonment each for the killing.
Eleven years later, Wiecek's mother (Kasia Orzazewski) puts a classified ad in the Chicago Times, offering a $5,000 reward for information about the true killers of the police officer. This leads the paper's city editor, Brian Kelly (Lee J. Cobb), to assign reporter P.J. McNeal (James Stewart) to look more closely into the case. McNeal is skeptical at first, believing Wiecek to be guilty. But he starts to change his mind and meets increased resistance from the police and the state's attorney's office, who are unwilling to be proved wrong. This is quickly followed by political pressure from the state capital, where politicians are anxious to end a story that might prove embarrassing to the administration.