---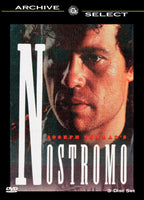 Nostromo (1997) (aka "Joseph Conrad's NOSTROMO") 3-Disc DVD set Color Approx. 309 Min. Shown in original aspect ratio 1.33:1 (Region 1 - Playable in North America - The US, Canada, Mexico, etc.)
Starring: Claudio Amendola, Paul Brooke, Lothaire Bluteau, Claudia Cardinale, Joaquim de Almeida, Brian Dennehy, Albert Finney, Colin Firth and Roberto Escobar. Written by John Hale, based on the novel "Nostromo: A Tale of the Seaboard" by Joseph Conrad Music by Ennio Morricone Directed by Alastair Reid.
In an unstable South American country, capable Nostromo (Claudio Amendola), a person of trust and a legend among his shipmates, is ordered to secure a shipment of silver and stop any revolutionaries who might try to take it. But even the bravest can be foolish.
NOSTROMO is based on an epic novel by Joseph Conrad published in 1904. It is set in a fictional South American country called Costaguana. Colin Firth plays Charles Gould, an aristocratic Englishman whose one goal is to reinstate the abandoned San Tome silver mine. The mine had been started by his father, and Charles was born in Costaguana. Ten years earlier Charles's father had been murdered by a dictator who bitterly hated "foreigners" and the silver mine. Now, back to this country, Charles brings a lovely, sensitive wife, Emilia (Serena Scott Thomas), whom he neglects as he becomes more and more obsessed with the silver mine.
When the unstable government of  Costaguana is thrown into revolution, Charles (Colin Firth) entrusts a large cache of silver to Nostromo (Claudio Amendola). Nostromo, a stevedore of Italian origin, is known to the natives as resourceful and incorruptible, and he values most his reputation in the eyes of the Costaguanans. When he appropriates some silver entrusted to him, he loses his integrity and peace of mind. As his life ends tragically, it is Emilia who, although suspecting his secret, allows his reputation to stay intact.
"It's not worship. You can choose to worship. It's something else. It's like the fairy tales when we were young. A spell is cast over you."
 Nostromo is a 1997 British-Italian television drama series directed by Alastair Reid and produced by Fernando Ghia of Pixit Productions, a co-production with Radiotelevisione Italiana, Televisión Española, and WGBH Boston
* This wonderful 3-disc DVD set has not been remastered, but it is an excellent opportunity to watch this masterpiece of multi-national film-making of Joseph Conrad's Nostromo: A Tale of the Seaboard!