---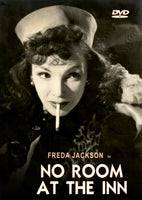 No Room At The Inn 1948 DVD (Region 1 - Playable in North America - The US, Canada, Mexico, etc.) Black & White. Newly priced!

Starring: Freda Jackson, Joy Shelton, Hermione Baddeley, Niall MacGinnis. Screenplay by Dylan Thomas and Ivan Foxwell, based on a play by Joan Temple. Directed by Daniel Birt.

The drunken landlady of a British boardinghouse confines a group of orphans to a life of degradation. As part of the mass evacuation of children in the early months of World War II, teenage Mary O'Rane is billeted with Mrs. Agatha ('Aggie') Voray in an unthreatened area in the north of England. Mary soon discovers that, behind her respectable front, Mrs. Voray forces her evacuee charges (five in all) to live in squalor and semi-starvation while spending the money intended for their upkeep on alcohol and personal fripperies. Yet when Mary is visited by her father, Mrs. Voray easily convinces him that Mary's allegations are groundless; to Mary's horror, he ends his visit by accompanying Mrs. Voray on a pub crawl. Mary's young schoolteacher, Judith Drave, takes her concerns about the children's welfare to the local authorities but is ignored. Mary, meanwhile, is coaxed into petty crime by her fellow evacuee Norma. Their ongoing torment by the alcohol-fuelled fury of Mrs. Voray leads to an unexpected turn of events.
This film gives Freda Jackson ample scope to be as savagely nasty as she pleases, Hermione Baddeley blowsily supports her, and Joan Dowling is admirable as a pert, blackmailing adolescent.