---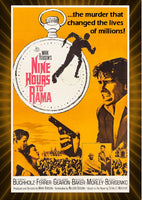 Nine Hours to Rama (1963) DVD (Region One – Playable in US, Canada, Mexico, etc.) Beautiful picture and sound. Color. Shown in original widescreen 2.35:1 Approx. runtime 119 min.
Starring: Horst Buchholz, Jose Ferrer, Valerie Gearon, J. S. Casshyap, Don Borisenko,  Robert Morley, Diane Baker, and Harry Andrews. Produced by Mark Robson. Screenplay by Nelson Gidding, based on "Nine Hours to Rama" by Stanley Wolpert. Music by Malcolm Arnold. Cinematography Arthur Ibbetson, Ted Moore. Edited by Ernest Walter. Directed by Mark Robson
Nine Hours to Rama is a fact-based fictionalized narrative set in the nine hours in the life of Nathuram Godse (Horst Buchholz) that led up to his assassination of Mohandas Karamchand Gandhi (J.S. Casshyap) in 1948. As he prepares for the shooting at Gandhi's residence, flashbacks recall Godse's hostility to Muslims, his adherence to a militant Hindu group that hatches the plot to kill Gandhi, and his involvement with a married woman Rani (Valerie Gearon) and a prostitute Sheila (Diane Baker). Meanwhile, a police officer - Supt. Gopal Das (Jose Ferrer) attempts to find the killer before it is too late.
"At the core, this dramatization of circumstances surrounding the assassination of Mahatma Gandhi is an achievement of insight and impact." - Variety