---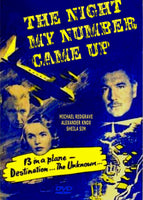 The Night My Number Came Up 1955 DVD (Region One Playable in North America – The US, Canada, Mexico, etc.) Black & White. Newly reduced price.

Starring: Michael Redgrave, Sheila Sim, Alexander Knox, Denholm Elliott, Nigel Stock, Michael Hordern, Ursula Jeans, Bill Kerr, Alfie Bass, Victor Maddern, Ralph Truman, George Rose. Written by Victor Goddard, R.C. Sherriff. Directed by Leslie Norman.

A thrilling classic with great performances by all. An air marshal in the Far East, has had a nightmare about crashing in a Dakota plane in an isolated spot off the Japanese coast. He is due to fly to Tokyo with his aide in a Liberator plane, so the uneasiness caused by his dream (which has eight people on the airship) is allayed. Then, due to a series of circumstances beyond his control, the two are diverted from the Liberator and placed aboard a Dakota with the same people he's dreamed about.
Little by little, all the worst parts of the dream come to pass. The plane is trapped in a storm and is tossed around the sky, the oxygen becomes thin - but will the terrifying climax of his dream come true? A frightening movie for anyone who has ever boarded a plane and wondered if this was the one which would go down in flames.
Don't see it before you have to fly!
"12 Men and a Girl Re-Living a Dream That Foretold Disaster! A Journey Through Suspense with13 on a Plane - Destination...The Unknown..."