---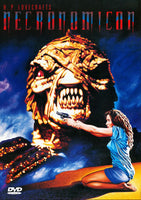 Sale
H.P. Lovecraft's Necronomicon 1993 DVD (Region 1 - Playable in North America - The US, Canada, Mexico, etc.)  Beautiful widescreen (1:78 to 1 anamorphic) print. Color approx. 93 min Unrated Newly reduced price!

Starring: Jeffrey Combs, Richard Lynch, Bruce Payne, Tony Azito, Juan Fernández, Brian Yunza, David Warner, Millie Perkins  Directed by: Brian Yuzna, Christophe Gans, Shusuke Kaneko
Three terrifying stories from one great author are brought to the screen in this anthology. Famed horror writer H.P. Lovecraft (Jeffrey Combs) peruses the infamous "Book of the Dead" as he flashes back on three of his own stories. In "The Cold", Mr. Madden (David Warner) is a scientist who cannot tolerate warm temperatures; when he falls in love with a beautiful woman who lives in the same boarding house, she learns the startling secret behind his condition. "The Drowned" concerns Edward De La Pore (Bruce Payne), who inherits a dilapidated mansion from his uncle and discovers the horrifying truth about both his family and his new home. And "Whispers" tells the tale of two policemen who encounter Mr. Benedict (Don Calfa), who is a denizen of a terrifying subterranean community.
Necronomicon was produced for European television in 1993, but it did not see a release in the U.S. until 1996. We present here the un-rated European version for your enjoyment.