---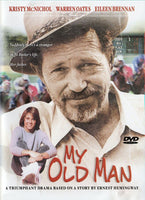 Sale
MY OLD MAN (DVD) 1979 Color Approx. 102 min.
Starring: Kristy McNichol, Warren Oates, Eileen Brennan, William Duell, Frank Hamilton, Michael Jeter, Ken Kimmins Written by Jerome Kass (teleplay), Ernest Hemingway (story - "My Old Man") Directed by John Erman
An unlucky horse trainer, Frank Butler, wins big at the track and buys his 16-year old daughter a horse to salvage their relationship. When Frank is hurt prior to the opening race, Jo must go it alone.
 "They said a lot of bad things about my father. But they didn't know the real man behind the rumors...and it took all my love and faith to prove them wrong."