---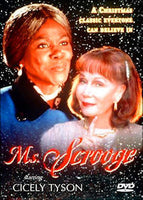 Sale
Ms. Scrooge 1997 DVD (Region 1 - Playable in North America - The US, Canada, Mexico, etc.) Color.
Starring: Cicely Tyson, Katherine Helmond, Michael Beach, Sandi Ross, Julian Richings, Karen Glave. Written by John McGreevey, based on "A Christmas Carol" by Charles Dickens. Directed by John Korty.

Ebenita Scrooge (Cicely Tyson) is a successful African-American banker who loves Christmas because people always over-spend and over-borrow money and she makes a profit from this. In a re-telling of Charles Dickens' classic tale, Scrooge is visited by her former boss Maude Marley (played by Katherine Helmond) who warns her about her greed. The Ghost of Christmas Past shows Ebenita visions of her father's struggle to run his own grocery store, her brother's death in the war and her choice of a career over love. The Ghost of Christmas Present shows her employee Bob Cratchit's family and his need for a decent health care plan. The Ghost of Christmas Future shows her that no one benefits after her death when the government claims her estate and her wealth.
Directed by John Korty, who directed Tyson in her Emmy-winning film The Autobiography of Miss Jane Pittman.
"A Christmas Classic Everyone Can Believe In. Let's just say she didn't make Santa's 'nice' list."