---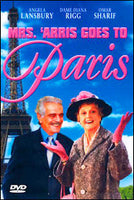 Sale
Mrs. 'arris Goes To Paris 1992 DVD (Region 1 - Playable in North America - The US, Canada, Mexico, etc.) Color. The Original!

Starring: Dame Angela Lansbury, Dame Diana Rigg, Omar Sharif. Written by John Hawkesworth from the novel by Paul Gallico. Directed by Anthony Pullen Shaw.

A delightful tale of a housemaid who spends her days cleaning the homes of the well-to-do. Mrs. Harris or 'arris as pronounced in her native cockney (Angela Lansbury) epitomizes her generation of honest, working-class Brits. She knows her place, though that never stops her from speaking her mind or dreaming of luxuries. Admiring a beautiful Dior gown in her employer s closet, Mrs. 'arris is determined to buy one of her own. Working day and night, she finally saves enough to go to Paris and visit the House of Dior, but learns that buying an original couture creation is harder than simply having the cash. After hesitation, Dior's head saleswoman Madame Colbert (Dame Diana Rigg) escorts her in and seats her next to the Marquis de Chassagne (Omar Sharif), a count who is quite taken by this friendly English woman. When her dream passes before her eyes on the beautiful store model Natasha, Mrs. 'arris orders the same gown for herself, but there is talk that the Dior name will be tarnished if Mrs. 'arris wears the exclusive design. However the sweet Mrs. 'arris has made many friends in Paris and all are intent on making sure her dream comes true.
Based on the book "Mrs. 'Arris Goes to Paris" by Paul Gallico published in 1958.
* Such a lovely story. And such a lovely actress in Angela Lansbury! - PJ Austin Times
"She knew her place, but never forgot her dreams."
* It is in the acting where the film really shines. Angela Lansbury is wonderful yet again, while Diana Rigg is stunning and Omar Shariff charming.Overall, a really nice and pleasant little film - delightful and everso charming. - Pauly Gorg - The Cinema's It Magazine

One of our most popular titles! Limited availability!