---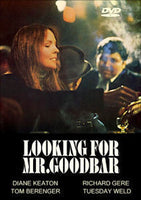 Sale
Looking For Mr. Goodbar 1977 DVD (Region 1 - Playable in North America - The US, Canada, Mexico, etc.) Widescreen. Color. Limited time price reduction.
Starring: Diane Keaton, Richard Gere, Tom Berenger, Tuesday Weld, William Atherton, Richard Kiley, Alan Feinstein, LeVar Burton. Written by Richard Brooks, based on the novel by Judith Rossner. Directed by Richard Brooks.

Raw, risk-taking cinema--from the no-holds-barred performance of a lifetime by Diane Keaton to the bold and imaginative direction of Richard Brooks. Theresa Dunn, an attractive, intelligent, independent, sexually curious, young woman who happens to be a school teacher for deaf children. After a short unhappy affair she starts to spend her nights cruising bars. Her craving first for sex but later also for drugs leads into increasingly demeaning and dangerous situations completely at odds with her daytime existence. The film's closing scene is harrowing.
Released in 1977 and based on Judith Rossner's best-seller.
Nominated for two Academy Awards and a Golden Globe Award.
"Looking for Mr. Goodbar is very much worth seeing, particularly for the Diane Keaton performance.The performance and the character are fully realized, even in this movie that finds room for so many loose ends... " - Roger Ebert