---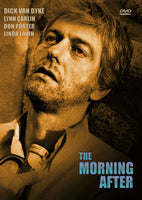 Sale
The Morning After 1974 DVD (Region One Playable in North America – The US, Canada, Mexico, etc.) TVM Color. Very rare offering with a new, lower price.

Starring: Dick Van Dyke, Lynn Carlin, Don Porter, Linda Lavin, Sam Gilman, Joshua Bryant, Richard Derr, Robert Hover. Written by Richard Matheson, Jack B Weiner. Directed by Richard T. Heffron.

Many consider this the most powerful film ever made about the devastating effects of alcoholism. Based on the best selling novel, Dick Van Dyke plays a successful public relations writer who has a serious drinking problem that threatens his marriage and life. He lies to his wife (Lynn Carlin), colleagues and family as his life descends into hellish ruin.
Shortly before taking on this role, Van Dyke admitted he himself was an alcoholic and had been seeking treatment (one of the first celebrities to do so).
He was nominated for an Emmy for Best Lead Actor in a Drama and this film is still shown in treatment centers today.
The Movie-O-Zone also offers "UNDER THE INFLUENCE" with Andy Griffith and Keanu Reeves.
"Sure, Charlie, you can handle alcohol. But what happened to your job? What happened to your wife and family? What happened to those hopes and dreams? How come you can't stop drinking, Charlie? Why don't you admit you're an alcoholic?"
*Very few prints of THE MORNING AFTER exist. After an extensive search we found what we believe to be the best surviving elements. We are pleased to make this available here on DVD. The quality is not good – and one should not expect state-of-the-art re-mastered quality - but it is a treasure for those who truly wish to see this important made-for-TV movie about one man's struggles with addiction. Dick Van Dyke - himself a recovering alcoholic - stated that this is something he is very proud of and an important true-to-life depiction of the terrible disease of alcoholism. It is rough. One a scale of 1 to 10, this print would be a 5 or 6.