---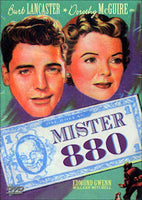 Mister 880 1950 DVD (Region 1 - Playable in North America - The US, Canada, Mexico, etc.) Black & White. Starring: Burt Lancaster, Dorothy McGuire, Edmund Gwenn. Written by Robert Riskin and St. Clair McKelway Directed by Edmund Goulding.

Based on a true story, Mister 880 is the whimsical tale of an elderly gentleman (Edmund Gwenn) who dabbles in counterfeiting. He makes only enough "funny money" to support himself, but the fact that his work is so amateurish (he can't even spell "Washington") arouses the indignation of the treasury department. Burt Lancaster, the hard-nosed treasury agent put on the case, is determined to prosecute the miscreant to the full extent of the law. In tracking down a lead, Lancaster falls in love with Dorothy McGuire, a recipient of one of the phony bills. Lancaster discovers that McGuire lives in the same building as Gwenn, and after piecing together the clues arrests the old fellow.
A true classic gem!
"It's the picture everybody is cheering !"