---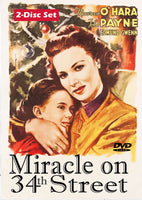 Miracle on 34th Street (1947) 2-Disc set Colorized and B&W (DVD) - (Playable in North America - The US, Canada, Mexico, etc.)
Starring: Maureen O'Hara, John Payne, Edmund Gwenn, Gene Lockhart, Natalie Wood, Porter Hall, William Frawley, Jerome Cowan and Philip Tonge. Screenplay by  George Seaton. Story by Valentine Davies. Produced by William Perlberg. Directed by George Seaton. Presented here in a wonderful 2-disc set with both the original black and white AND the COLORIZED versions. Beautiful picture and sound on both versions!
"Miracle on 34th Street" is an irresistible fable that has, for many years, become synonymous with celebrating Christmas. And now this three-time Oscar-Winning* tale is as resplendent as the holiday itself in a Blu-ray version that's sure to delight fans old and new. The holiday season is in full swing when a cultured gentleman with twinkling eyes, an ample belly, and a snowy beard (Edmund Gwenn) is hired as Macy's department store Santa. He claims his name is Kris Kringle, and soon fills everyone with Christmas spirit...except for his boss, Doris Walker (Maureen O'Hara), who's raising her daughter (Natalie Wood) to not believe in Santa. But when Kringle is declared insane, and put on trial, everyone's faith is put to the test as young and old alike face the age-old question: Do you believe in Santa Claus?
*"Miracle on 34th Street" won three Academy Awards: Gwenn for Best Actor in a Supporting Role, Valentine Davies for Best Writing, Original Story, and George Seaton for Best Writing, Screenplay.
In 2005, the film was selected for preservation in the National Film Registry by the Library of Congress as being "culturally, historically or aesthetically significant". The Academy Film Archive preserved "Miracle on 34th Street" in 2009.
"Miracle on 34th Street" was shot on location in New York City, with the Macy's Thanksgiving Parade sequences filmed live while the 1946 parade was happening. "It was a mad scramble to get all the shots we needed, and we got to do each scene only once," Maureen O'Hara recalled in her memoir. "It was bitterly cold that day, and Edmund and I envied Natalie (Wood) and John Payne, who were watching the parade from a window."