---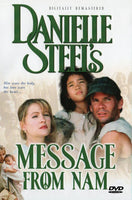 Danielle Steel's - Message from Nam (1993) DVD COLOR Approx. 172 minutes (Playable in North America - The US, Canada, Mexico, etc.) Full-frame. Digitally remastered. Beautiful print.
Starring: Jenny Robertson, Nick Mancuso, Ed Flanders, Ted Marcoux, Hope Lange Written by: Danielle Steel, Suzanne Clauser Directed by Paul Wendkos
Paxton Andrews (Jenny Robertson), a young idealistic woman from the American Deep South, faces love, loss and the harsh realities of war. When thrown into the radical 1960s campus life at Berkley, she believes she has found a soul mate in a bright law student named Peter (Steven Eckholdt). But he is drafted and killed in Vietnam. Grief motivates Paxton to become a war correspondent and she is transferred to Saigon. Once there she pursues journalistic truth and finds time for an Army captain as well.