---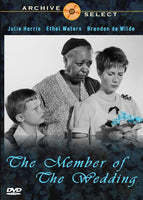 Sale
THE MEMBER OF THE WEDDING (1953) Region One (Playable in North America – The US, Canada, Mexico, etc.) B&W 90 min. Beautiful re-mastered print. New, Lower price! Plus featurettes: "THE WORLD OF CARSON McCULLERS" and "JOURNEY FROM STAGE TO FILM"
Starring: Ethel Waters, Julie Harris, Brandon De Wilde, Arthur Franz and Nancy Gates. Based on the novel by Carson McCullers. Produced by Stanley Kramer. Directed by Fred Zinneman.
Bookish tomboy Frankie Addams (Julie Harris) doesn't get along with the rest of the girls in her tiny southern town. Depressed, socially isolated and perched on the verge of adolescence, Frankie takes refuge with the family maid, Berenice (Ethel Waters), and pals around with her young cousin, John Henry (Brandon de Wilde), while secretly fantasizing about going away with her brother, Jarvis (Arthur Franz), and his new bride, Janice (Nancy Gates), on their honeymoon to Alaska.
The leading actors from the stage production recreated their roles for the film version. Top-billed Ethel Waters, who played Berenice, was a Broadway musical legend, and had also appeared in several films. For 26-year old Julie Harris, who played the 12-year old Frankie, it would be her first major film role. Ten-year-old Brandon De Wilde, who played John Henry, had made his acting debut in the play.
Julie Harris was nominated for an Academy Award® for her performance, but lost to Shirley Booth, who won for Come Back, Little Sheba (1952).