---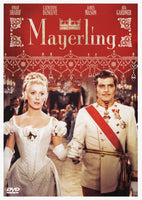 Mayerling (1968) DVD (Region One – Playable in US, Canada, Mexico, etc.) Beautiful picture and sound. Newly remastered. Color. English. Shown in original aspect ratio 2.35 : 1  Approx. 132 min. New, lower price!

Starring: Omar Sharif, Catherine Deneuve, James Mason, Ava Gardner, James Robertson Justice, Geneviève Page.
Produced by Robert Dorfmann and Maurice Jacquin. Written by Claude Anet (novel), Michel Arnold (book L'Archiduc), Terence Young (screenplay), Denis Cannan (dialogue) and Joseph Kessel. Music by Francis Lai (original), Aram Khachaturian ('Adagio from Spartacus'). Cinematography by Henri Alekan. Directed by Terence Young
In the 1880s, Crown Prince Rudolf of Austria (Sharif) clashes with his father, Emperor Franz Joseph I of Austria (Mason) and his mother Empress Elisabeth (Gardner), over implementing progressive policies for their country. Rudolf soon feels he is a man born at the wrong time in a country that does not realize the need for social reform. The Prince of Wales (Robertson Justice), later to become King Edward VII of Britain, visits Vienna and provides comic relief. Later in Hungary popular revolt broke out, which Rudolf begged his father, Francis Joseph, to tolerate, but to no avail.
Rudolf finds refuge from a loveless marriage with Princess Stéphanie (Parisy) by taking a mistress, Baroness Maria Vetsera (Deneuve). Rudolf sends his son to supervise military training, and further exiles Maria to Venice. When back in Vienna, the couple's mutual untimely death at Mayerling, the imperial family's hunting lodge, is cloaked in mystery, which the film's ending suggests the two lovers made a suicide pact when they decided they could not live in a world without love, nor prospects for peace.
"No one woman could satisfy him...until he fell in love."
"Omar Sharif and Catherine Deneuve are both so splendid and believable in their roles. The sets are superb. The script and acting are top drawer. Part of the pathos of the movie is that it was based on a true story. This movie is one well worth seeing more than once. History buffs will be enthralled. Romantics will be satiated. Just can't say enough in praise of the movie." – Movie Buffist