---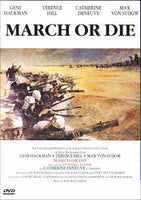 Sale
March or Die 1977 DVD (Region 1 - Playable in North America - The US, Canada, Mexico, etc.) Widescreen. Color. Available only for a limited time with this lower price!

Starring: Gene Hackman, Terence Hill, Catherine Deneuve, Max Von Sydow, Ian Holm. Directed by Dick Richards.

A surging screen adventure set at the end of World War I where a perilous Foreign Legion bid to excavate a priceless tomb. Major Foster (Gene Hackman) and his Legionnaires are ordered to protect an archaeological expedition led by Francois Marneua (Max Von Sydow). Foster is opposed to the excavation of the tomb in Morocco, knowing the last expedition here was destroyed. Marco Segrain (Terence Hill), on the run from the police, joins the Legion and acquires a grudging admiration for Foster. On the ship to Morocco they are attracted to the same woman (Catherine Deneuve). In Morocco, Foster leads the gallant Legionaires in battle against the Arab forces who are out to stop Marneua's unholy violation of their desert kingdom.
Beautifully photographed, presented in its original widescreen glory!
"The magnificent story of every courageous man who has ever gone out to face death and every brave woman who has ever waited for him to return."