---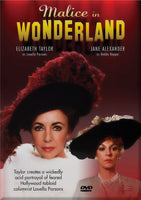 Sale
Malice in Wonderland (1985) DVD Color Approx. 88 minutes (Playable in North America - The US, Canada, Mexico, etc.) Digitally remastered. Beautiful print.
Starring: Elizabeth Taylor, Jane Alexander, Richard Dysart, and Joyce Van Patten Written by George Eells (novel), Jacqueline Feather, David Seidler Directed by Gus Trikonis
During Hollywood's heyday, two women wielded more power than the toughest studio boss. The could make--or break--a star's career with one stroke of their pens--but they saved their nastiest comments for each other! Elizabeth Taylor ("Cleopatra," "Who's Afraid of Virginia Woolf?") and Jane Alexander ("The Ring," "The Cider House Rules") star in this real-life drama of legendary, rival gossip columnists, Louella Parsons and Hedda Hopper.
It's scandalously wicked fun as "Hedda" and "Lolly" catapult unknowns into overnight fame or turn the biggest star into a has-been. The battle to be top Gossip Queen is about to turn into a perfect storm of rumors, threats and blackmail. These Divas of Dirt are headed for the biggest catfight Hollywood has ever seen, and no one's secrets are safe.
"Directed by Gus Trikonis with a hard-edged feeling for the period and the period's movie styles, ''Malice in Wonderland'' keeps dropping fairly broad hints as to how really dreadful Louella and Hedda really were, but the film's overall tone is kept as light as the average 30's comedy." – The NY Times
"In Hollywood, gossip is a lethal weapon!"
---