---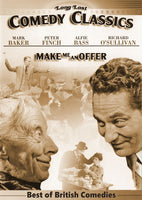 Make me an Offer! (1955) DVD (Region One – Playable in US, Canada, Mexico, etc.) Color Beautifully remastered Shown in original aspect ratio 1.37:1 Approx. 88 min.
Starring: Peter Finch,  Adrienne Corri, Rosalie Crutchley,  Finlay Currie, Meier Tzelniker, Ernest Thesiger, Wilfrid Lawson, Anthony Nicholls and Alfie Bass. Written by W. P. Lipscomb and Wolf Mankowitz. Based on the novel "Make Me an Offer" by Wolf Mankowitz. Music by John Addison. Cinematography Denny Densham. Produced by W. P. Lipscomb. Directed by Cyril Frankel.
On a childhood trip to the British Museum, young Charlie (Richard O'Sullivan) falls instantly in love with the Portland Vase, and his passion for it leads to him eventually becoming a dealer in English Wedgwood pottery. He sees a newspaper cutting that describes the theft, 50 years before in 1886, of art treasures, including a perfect green Portland Vase created by Josiah Wedgwood in 1783. Years later and struggling in his profession, Charlie (Peter Finch) learns of a room full of Wedgwood in a country mansion up for demolition. Lacking funds, he turns to Abe Sparta (Finlay Currie), a successful businessman and the owner of the house in which Charlie, his wife Bella (Rosalie Crutchley) and their two children live.
A strange meeting with Nicky, a pretty if absentminded redhead, follows as Charlie seems to be on the edge of a huge discovery – a green Portland Vase. The very same vase that was stolen more than 50 years earlier. Nicky invites him to look in the cottage she shares with Sir John, an aged relation with a wicked reputation. Charlie conceals his astonishment upon spotting two of the art objects stolen along with the vase. Then he finds the Portland Wedgwood vase gathering dust in the attic. Charlie offers Nicky £10 for it, but she wants £100 for a fur coat. He reluctantly agrees, knowing he will have to find the money somehow. Can he keep his composure and find the money to buy what he has searched for his whole life?