---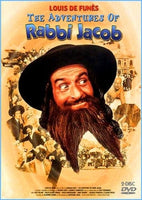 Sale
The Mad Adventures of Rabbi Jacob (Les aventures de Rabbi Jacob) 1973 DVD (Region 1 - Playable in North America - The US, Canada, Mexico, etc.) 2-Disc Set. Dubbed Version & Subtitled Version. Widescreen. Color.
Starring: Louis de Funes, Miou-Miou, Suzy Delair, Marcel Dalio, Claude Geraud, Janet Brandt, Renzo Montagnani, Andre Falcon, Henri Guybert, Popeck, Xavier Gelin, Jacque Francois. Written by Gerard Oury, Daniele Thompson, Josy Eisneberg. Directed by Gerard Oury.

Victor Pivert (Louis de Funes) (is a very tolerant man, provided you are white, Catholic, and French. To everyone else, he is a shameless racist, who believes foreigners should go back where they came from. On his way to his daughter's wedding, Victor uncovers a group of scheming Arab revolutionaries. After Victor is discovered, he hides himself by dressing up as a rabbi, leading to one madcap scene after another.
A hilariously entertaining film - fresh, funny, and powerfully poignant. English Dubbed Version and Original French Language Version with English subtitles.
 "THE WILD... THE HILARIOUS... THE SCREWBALL... THE RIOTOUS The funniest movie to open this year hasn't opened yet! "