---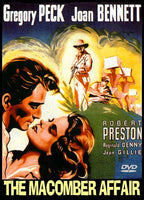 Sale
The Macomber Affair 1947 DVD (Region One Playable in North America – The US, Canada, Mexico, etc.) Black & White.
Starring: Gregory Peck, Robert Preston, Joan Bennett. Directed by Zoltan Korda.

A compelling, atmospheric character study based on the Ernest Hemingway story "The Short Happy Life of Francis Macomber."

Francis and Margaret ("Margot") Macomber (Robert Preston and Joan Bennett) hire Robert Wilson (Gregory Peck) to take them on an African safari hunting for big game. The Macombers are increasingly revealed to be a bickering couple, to Robert's discomfort. And Margot is increasingly repelled by her husband's weakness and signs of cowardice. Things grow even more uncomfortable among the threesome when Robert finds himself attracted to Margot, and vice versa. Day after day their uneasy alliance simmers in the noonday sun until an explosive encounter alters their lives forever.
Arguably the best Hemingway adaptation to screen of all time.